Former government adviser says regulations make it too difficult to research psychoactive drugs with potential medical uses
Alok Jha, science correspondent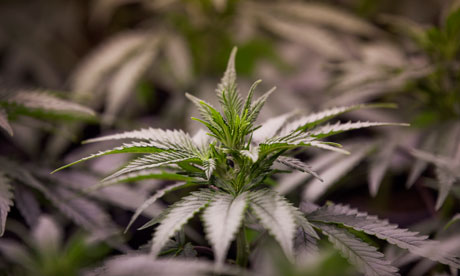 Nutt said there had been little research on drugs like cannabis that could help scientists understand consciousness, mood and psychosis. Photograph: Guardian
The classification system that makes 
drugs
 such as cannabis and MDMA (ecstasy) illegal has prevented scientists from properly researching their possible therapeutic uses for conditions such as schizophrenia and depression, according to the government's former chief adviser on drugs.
Professor 
David Nutt
 said the UK's laws on misuse of drugs needed to be rewritten to more accurately reflect their relative harms and called for a regulated approach to making drugs such as MDMA and cannabis available for medical and research purposes.
"Regulations, which are arbitrary, actually make it virtually impossible to research these drugs," said Nutt. "The effect these laws have had on research is greater than the effects that [George] Bush stopping stem cell research has had because it's been going on since the 1960s."
Almost all the drugs that could help scientists to understand brain phenomena such as consciousness, perception, mood and psychosis are illegal, including ketamine, cannabis, MDMA and psychedelic drugs such as magic mushrooms. Nutt said there had been almost no work in this field because the government made it difficult for scientists to access the drugs.
A Home Office spokesperson told the Guardian: "The Home Office licensing regime enables bona fide institutions to carry out scientific research on controlled substances while ensuring necessary safeguards are in place."
Nutt, who is professor of neuropsychopharmacology at Imperial College London, made his comments at a briefing in London on Wednesday to mark the launch of his book, 
Drugs Without the Hot Air
.
Read complete article here:
http://www.guardian.co.uk/science/2012/may/31/ecstasy-cannabis-study-david-nutt?newsfeed=true